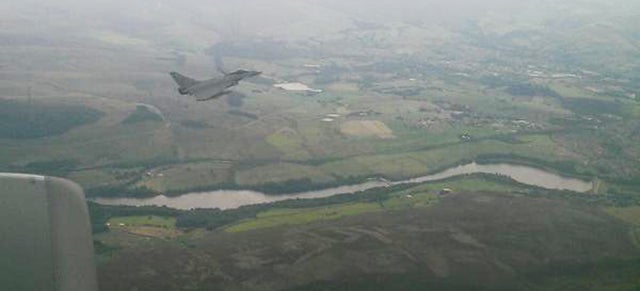 A fighter jet had to escort Qatar Airways flight QR023 from Doha down to the ground at Manchester Airport minutes ago after the commercial pilot reported a "possible device on board." Here's how the whole thing unfolded.
The Manchester Evening News reports that hardly an hour ago, an RAF Typhoon fighter rapidly approached the Qatar Airways plane and started to bring it down to Manchester Airport. One of the many eyewitnesses to the event described the encounter.
I saw the fighter jet come from nowhere on the heels of the passenger plane. It seemed really close and was incredibly noisy. I thought it was going to hit the plane. It was circling so close.
While all other flights to Manchester redirected to nearby airports, the Qatar flight continued its escort, covered live on Twitter from the ground
Much clearer #photo for the @qatarairways passenger plane escorted by the jet near #Manchester airport. #UK pic.twitter.com/rpywVe3QVs

— Rami (@RamiAlLolah) August 5, 2014
and even from inside the plane.
Being escorted in pic.twitter.com/SlV57ybCWj

— Josh Hartley (@JoshHartley_) August 5, 2014
It took hardly twenty minutes and both plane and fighter jet were safely on the ground. The Qatar flight was followed by a swarm of emergency vehicles.
Qatar airlines flight just come past T2 at Manchester followed by a bunch of Emergency vehicles #ManchesterAirport pic.twitter.com/0MKvB5yyFa

— Becky Sullivan (@Beckiiki) August 5, 2014
The Mirror reports that civilian authorities are now in charge of the situation. Beyond that, however, there is currently no information about the suspected device in question. We will update as we know more.
UPDATE: The cops say it was a hoax bomb.
Police: man pulled from passenger plane which RAF escorted into #Manchester Airport arrested on suspicion of making a hoax bomb threat

— Sky News Newsdesk (@SkyNewsBreak) August 5, 2014
The Manchester Evening News had reported that the passengers had made it off the plane, and that there was potentially a bomb onboard. Sky News has reported the bomb threat was a hoax.
Top Photo Credit: Josh Hartley via Twitter